Once Again a Student
It has been such a thrill to be back in the ministry in Spain. There is much to write about, but I'll leave most of it for another letter. For now, I'd like to explain my goals for further education as I serve here. On October 22nd I'll start my first online class from Northland. It's such a blessing that today it is possible to take courses online without the need to leave local ministry for an extended period.
I don't know yet how long it will take me to finish my Master's degree. I would like to finish in two years if possible, but I don't know yet whether or not that is realistic. However, if the Lord continues to provide financially and I have the time available, that is my plan.
I've been able to pay for my first online session and textbooks entirely through money the Lord provided from building websites in the US. I keep becoming more and more convinced that God wants me to continue improving and using skills for professional web design and online marketing. At the moment it is a way to help pay for seminary, but I also see it as a very real need among the local churches here in Spain. I believe God wants to use me as a help to missionaries and local pastors here in the future. The internet provides huge opportunities for reaching out to the lost, and I believe it is our responsibility to use each tool the Lord gives us for the effective spread of the Gospel.
So while training to be a better student of the Word through Northland, I am also doing everything I can to prepare for an online ministry here in Spain. So I ask for focused prayer that God help me learn everything I can, through both graduate studies and web-related work.
While in the US I prepared a brochure that I would leave with churches to explain the goals I have for ministry in Spain. You can read and print it out here.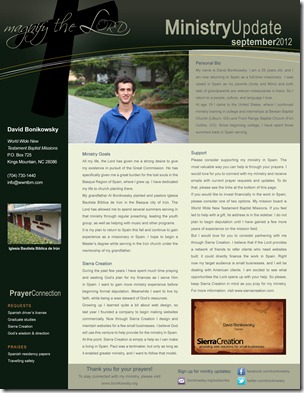 As always, thank you so much for your prayers. I need them.
God bless,
David
Ps. 34:3
Leave a Response
or enter your name and email below