Youth, Camp, and a Wedding
It's been a busy summer so far, and things won't be slowing down any time soon. The Basque Country is a great place to enjoy summertime, and this time, much of my summer has been invested in my youth group. Due to an injury playing soccer, I've had to adjust my activities somewhat :). I've had less outreach time, but more quality time with young people from church.
One of the highlights of the summer was going to a Christian camp in the central part of Spain. The young people look forward to camp all year, as its one of the few opportunities to interact with other Christians their age. This year nine young people from church went. Praise the Lord, three of those young people are young men who have come to church and been saved through the soccer outreach. I believe the Lord really worked in some of their lives through the preaching that week. One of them especially had strayed quite a bit from where he should be as a believer, but he ended the week with a repentant heart and a strong desire to serve the Lord. God gave me some excellent time with him and others from the youth group throughout the week. Please pray that the Lord would keep their love for God fresh.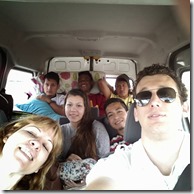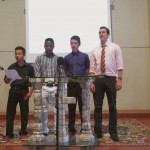 My brother Danny is getting married on September 27th. I'm very thankful that the Lord, through a fellow believer, has provided so I can make a trip to the States to be in the wedding. I am planning to be in the States for a few weeks before and after the wedding. I will be working in Greenville, SC, but one my goals for while I am gone is to raise support. I'm trusting the Lord will provide the money I'll need to keep living in Spain. My grandparents Al & Helga (with whom I've been living) will be retiring soon, so I will have higher living expenses after I return here. I've prepared a ministry presentation video, and I invite you to watch it. If you believe your church might consider taking me on as a missionary, please consider sharing the video with your church. If you would, please pray with me that the Lord would continue to provide (as He has always done thus far) for the ministry here in Spain.
One Response to "Youth, Camp, and a Wedding"
Leave a Response
or enter your name and email below