Summer ministry highlights: Aierdi Farmhouse
I mentioned that I wanted to highlight a few of the ministries I've been able to be a part of throughout the summer. So today I wanted to mention the work that goes on at the Aierdi Farmhouse.
---
When the Lord miraculously provided Aierdi 11 years ago, it needed a lot of work. The Aierdi farmhouse is an old Basque structure built over 300 years ago. Though it's been lived in throughout the centuries, it was barely habitable when the Lord first gave it to us. From the beginning, we've taken the challenge of renovating the farmhouse, one step at a time.
The farmhouse has been used to host many church activities, outreach ministries, retreats, and Bible seminars. It has been a tremendous help to the work here in Spain.
I've spent a significant amount of time this summer working there in construction and maintenance. There is always work to be done, and there are always improvements to be made. So whether replacing an old roof, or building a water tank, or clearing out trees, I've been kept busy.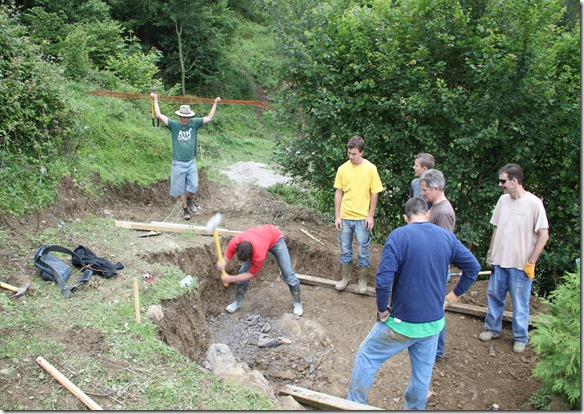 We have held a few of our weekly youth activities at the farmhouse. It is a perfect place to get away and have good Christian fellowship. There is also lots  of room for playing volleyball :).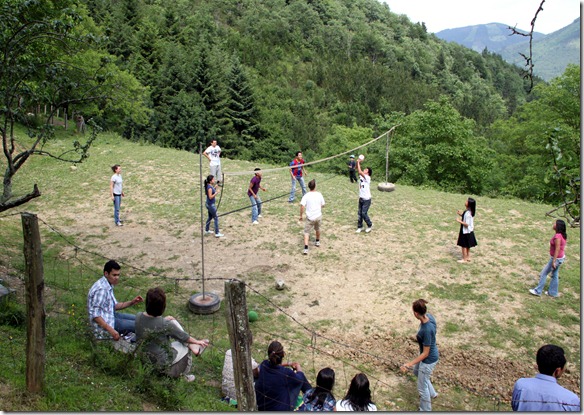 Please pray for the ongoing work there. The Lord has used the Aierdi farmhouse to change many lives, and I pray that He will continue to do so. Please pray for safety for those who continue working there. And as always, please pray that the Lord would continue to direct my parents, the other missionaries here, and me as He sees best.
God bless,
David
Ps. 34:3
One Response to "Summer ministry highlights: Aierdi Farmhouse"
Leave a Response
or enter your name and email below