Preparing for a busy summer
It's hard to believe I have less than two weeks left at Front Range Baptist Church! These past nine months have been very special, and I feel privileged for the opportunity I've had to create many new friendships.
In two weeks, Lord willing, I'll be in South Carolina again, and one week later, back to my beloved Basque Country! As much as I've loved Colorado, I can't wait to be back to the most beautiful place on earth :). As typical, the summer will be very full and very busy. I will be moving back and forth a lot, helping in my father's church in Beasain and my grandfather's in Irun.
I added a new page to my website that I hope to keep up to date with my plans for the future. Of course, these are my plans, and while I believe they represent the doors God has opened, I try not to assume I can predict what God wants to do with my life. As a brief summary of what is outlined on the page, I plan to be in Spain, as actively involved in the ministry as possible, throughout the summer. Afterwards, I plan to return to the US briefly, while I prepare to return to Spain as a short-term missionary through World Wide New Testament Baptist Missions. I would then come to Spain to work on completing a master's degree in Biblical Studies through Northland International University. I have a number of things to sort out before beginning grad work, but that is the plan as of now.
I'm very excited about the future. I believe God has great plans in motion for me to follow.
---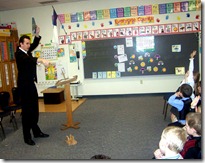 Meanwhile, here at FRBC, I'm busily working on finishing up some projects before I leave. I mentioned last time that I have been going through missionary stories in children's church on Sundays, and I'll be finishing off the mini-series soon with the story of the Paul, one of the first missionaries. It's been a fun opportunity, and I love seeing young children getting excited about missions.
---
In the choir, we've been preparing for quite a while now for our Easter cantata, which we'll be performing this Sunday. We're praying that the Lord will use it in the lives of the visitors we expect to see that day. The cantata is We Are Your Church from Majesty Music.
(Unfortunately I don't have a picture of us singing to include just yet :). If you're reading this online I'll add it in after Sunday.)
---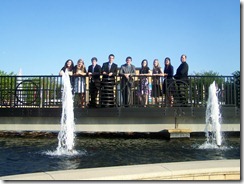 Last week I had the chance to go with 8 students and 2 parents from the academy here for a national competition held at Bob Jones University. We made the long (but fun) drive to South Carolina, and stayed there a few days while the students took tests. I of course took advantage of the opportunity to spend a few days with my brothers there. The teens who went placed well in the competitions, so we thoroughly enjoyed the week.
---
I'll finish with a few verses from this morning that were a blessing. From Psalm 15:
1 Lord, who shall abide in thy tabernacle? who shall dwell in thy holy hill?
2 He that walketh uprightly, and worketh righteousness, and speaketh the truth in his heart.
5 ….He that doeth these things shall never be moved.
David
Ps. 34:3
Leave a Response
or enter your name and email below